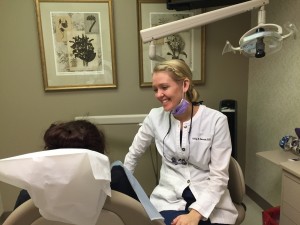 If you want to create a beautiful smile for your holiday cards or as part of your New Year's resolutions, the Thanksgiving holidays may be the perfect time to get started. To find out more about your cosmetic dentistry options or start planning to achieve your New Year's smile resolution, consider scheduling a consultation visit with your Millersville cosmetic dentist. You can also learn more about the benefits of cosmetic dentistry in this blog.
Smile Makeovers are Good For Your Teeth
Each person's cosmetic dentistry treatment plan will be geared toward achieving their unique goals. From teeth whitening to cosmetic dental bonding and porcelain veneers, transforming damaged, decayed, or worn teeth into gorgeous smiles has many benefits. One thing that many people don't consider is how good smile makeovers can be for teeth. Porcelain veneers and composite dental bonding can strengthen the tooth's structures. Porcelain veneers offer a quick and effective solution for people who have chips, gaps, and cracks in teeth. Once applied, porcelain veneers actually add a layer of protection to your smile to prevent additional damage as they recreate a flawless appearance. For a more conservative solution, cosmetic dental bonding or thin veneers can deliver similar results without the need to remove any healthy tooth structures to accommodate a dental restoration.
Cosmetic Dentistry Helps to Prevent Oral Health Issues
After investing in a new smile, people are much more likely to take better care of their teeth. To prolong cosmetic dentistry results, great oral hygiene is essential. This improved at-home oral healthcare has a ripple effect, keeping your smile healthier and preventing serious oral health concerns.
Cosmetic Dentistry Boosts Your Self-Esteem
The most obvious benefit of cosmetic dentistry is how great you'll look and feel after partnering with a cosmetic dentist to transform your smile. In fact, most people find themselves grinning from ear to ear, and sharing their smile more often. Studies show that smiling improves self-esteem and general wellbeing. The neuropeptides, endorphins, dopamine, and serotonin released by the brain when you smile are effective in relieving stress, reducing heart rate, and improving mood, and the more you smile, the better you'll feel. The benefits of having the self-confidence to smile more often are contagious, meaning the people you share smiles with are more likely to smile and feel better in return.
Visit the McCarl Dental Group
The McCarl Dental Group team loves working with patients to achieve picture-perfect smiles they've only dreamed about. With conservative, smile-transforming cosmetic dentistry solutions available, our cosmetic dentist in Millersville can help you create a gorgeous smile you'll be proud to share. When you're ready to find out more, contact our dental office Millersville.