Why Millersville
Loves Us

Our Dental Philosophy
Dental Care from Our Family to Yours Since 1924
At McCarl Dental Group at Shipley's Choice, our mission is simple: we're here to promote healthy, beautiful smiles. Starting at your very first appointment, we'll do everything we can to help you achieve the smile of your dreams in the most effective and comfortable way possible. Whether you need routine preventive care or something more involved like tooth replacement, you'll always experience unmatched quality and service. Form, function, and beauty are at the center of everything we provide, and we'll ensure you walk out of our dental office with a set of teeth that will fill you with confidence every time you show them off.
Learn More
Our Team Approach
to Dentistry
At our Millersville dental office, we are very fortunate to be staffed by three fantastic dentists, each one committed to the McCarl mission of providing comprehensive dentistry and premier customer service that gives our patients every reason to smile. Thanks to their years of experience and constant growth due to a commitment to continuing education, you can trust that you'll always be in good hands whenever you come to see us.
Meet Our Dentists
From Left to Right: Clayton McCarl, DDS Jay McCarl, DDS Dave McCarl, DDS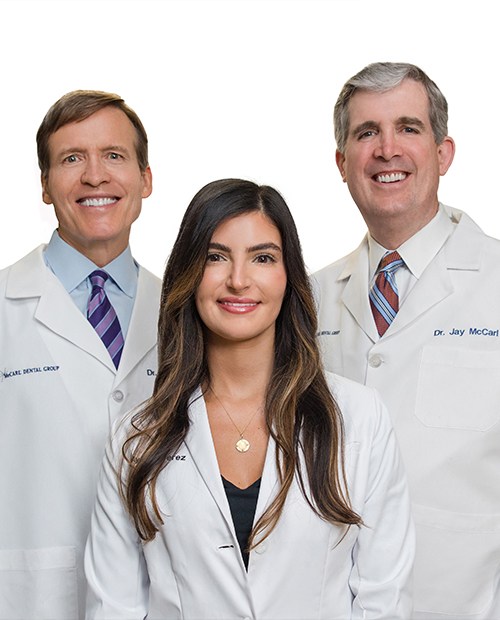 See What Our Dental Patients Think
Our 5-Star Reviews

"If dentists and their hygienists can be said to have caring "bedside manners", this dentistry group has them in spades. Their work is professional and accompanied by their genuine concern that the patients are both informed and as comfortable as possible at the dentist"
David M. | Millersville, MD
"The wonderful staff waited for me, stayed late, and took care of me in the best way possible, not just a temporary fix. I am forever grateful! Is it any wonder I've been a patient for 30 years? Thanks, Dr. Clayton, Sarah and other staff who went above and beyond. You are truly compassionate, caring professionals!"
Becky R. | Millersville, MD

"The best dental group in PG County. When you enter, you are greeted with a hello and smile... everyone is very professional. The entire dental 'crew' is top notch, I've never had a bad experience. I recommend them to everyone."
Sheryl R. | Millersville, MD
Read More Reviews
Dental Insurance & Financing
Quality Care That Doesn't Break the Bank
We truly believe that every part of the dental experience should be 100% painless, including when it's time to pay the bill! Our friendly team is ready to help you navigate the ins and outs of your dental insurance plan, so we can make sure you're saving every dollar you deserve. And, if you currently don't have insurance, you can sign up for a low-to-no interest payment plan that will ensure your care fits easily into your budget.
Explore Affordable Payment Options