Porcelain Veneers – Millersville, MD
Transform Your Smile Quickly & Completely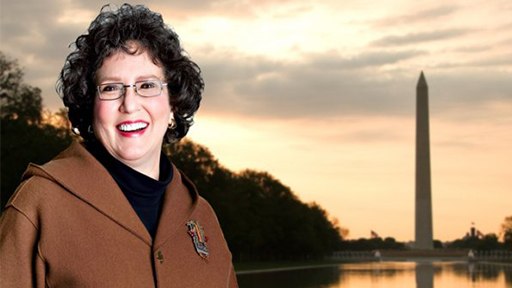 The McCarl Dental Group has provided Millersville, MD families a range of dental care solutions since 1924, and that includes offering extensive cosmetic dentistry options to create beautiful smiles. Porcelain veneers are some of the most versatile cosmetic dentistry services we can offer because they allow us to correct and conceal numerous aesthetic concerns in just a few short visits. If you want to learn more, call to schedule a consultation to discuss porcelain veneers in our Millersville dental office.
Why Choose McCarl Dental Group for Porcelain Veneers
Highest quality materials & state-of-the-art techniques
Range of traditional & minimal prep porcelain veneer options
Most knowledgeable & skilled dentistry team in Millersville
What are Porcelain Veneers?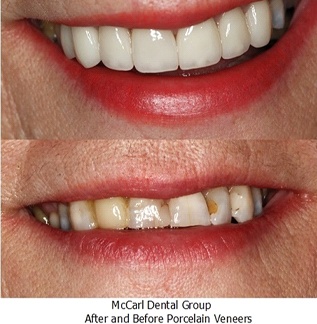 Veneers are cosmetic dental treatments that use thin layers of porcelain to create a new exterior surface for your smile. Once in place, your porcelain veneers will blend seamlessly into the smile, but they can dramatically improve the appearance of chips, cracks, stains, and gaps in teeth. Additionally, the dental-grade porcelain also provides protection for underlying tooth structure, reducing risk for decay and damage.
Types of Porcelain Veneers
At McCarl Dental Group, we never offer a one-size-fits-all dentistry solution. In order to customize your porcelain veneers treatment, we offer a variety of traditional, minimal-prep, and no-prep veneers. Your custom porcelain veneer plan may include the following options:
Traditional Porcelain Veneers
About the size of fingernail prior to placement, traditional porcelain veneers require us to remove a small amount of surface tooth enamel to allow the veneer to lay flat within the line of your smile. The improved durability of the traditional veneers means these solutions may be ideal for those people who want to correct bigger flaws like gaps between teeth.
Thin or Minimal Prep Veneers
In addition to traditional porcelain veneers, we also offer a more conservative solution. This veneer option may go by many names, including thin, minimal-prep, or no-prep porcelain veneers. By any name, these porcelain veneers are thinner than the traditional solution about the size of a contact lens. In many cases, we can affix these thin veneers with little to no removal of healthy tooth structure. Because they are so thin, these porcelain veneers are not an ideal option for advanced cosmetic flaws, but they work well to improve the appearance of minor imperfections and discolorations.
Combination of Traditional & Thin Porcelain Veneers
If your situation is a little more complicated or you want to address a combination of cosmetic concerns, we may recommend combining traditional and thin porcelain veneers. This ensures you're able to address individual cosmetic concerns while preserving the maximum amount of healthy tooth structure.
How Can Porcelain Veneers Improve My Smile?
We can use porcelain veneers to address a number of cosmetic flaws, including:
Chips, cracks, and breaks in the surfaces of teeth
Dull, yellow, or otherwise discolored dental structure
Gaps and uneven spacing between teeth
Irregular tooth size and shape
How Do I Care for Porcelain Veneers?
After your porcelain veneers are placed, they will look and feel just like your healthy smile. You can brush and floss each day like you would your health smile, but we may make some recommendations to change your oral hygiene products to avoid unnecessary wear or damage to the veneers. Specifically, you'll want to use soft bristled toothbrushes and minimally abrasive toothpaste. You should also take steps to protect your smile, including wearing mouthguards when engaging in contact sports or if you struggle with nighttime teeth grinding and clenching. You should also avoid biting your fingernails, ice cubes, or other hard non-food objects. These seemingly innocuous habits can significantly increase risk of damaging your porcelain veneers – just as they damage natural teeth.
Finally, don't forget to visit us at least twice a year for dental exams and professional teeth cleanings. These regular visits ensure we can help you keep your new smile looking great for years to come.