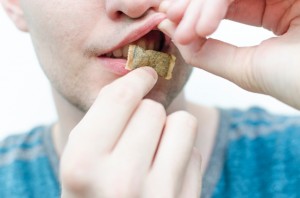 When it comes to quitting a bad habit, the most important thing to do is get started! Tobacco use is a difficult habit to break. It is important for your oral and overall health to kick the habit. Keep reading or contact your dentist in Millersville if you are concerned about the consequences of smokeless tobacco use. Let the McCarl Dental Group team help teach you habits for optimal oral health.

1 – Know the Facts
Average size dip held in mouth for 30 minutes = 3 cigarettes
Oral cancer kills one US adult every hour on average
The average smokeless tobacco user spends between $500 and $1500 a year on tobacco products
Sugars in smokeless tobacco increase the risk for tooth decay and gum disease
Smokeless tobacco is not a healthy alternative to cigarettes
2 – Know Your Habits
Answer the following questions before you create a quit plan. It's important that you understand your own habits, and just how addicted you truly are.
How much smokeless tobacco do you use each day?
How often do you use smokeless tobacco? (sleep with tobacco in the mouth, use in less than ideal settings – work, school, public places, use tobacco first thing in the morning)
What is the nicotine content in your smokeless tobacco products? Some brands of dip have more nicotine than others.
Do you ever swallow the juice from the smokeless tobacco?
Do you have craving or headaches if you go without smokeless tobacco?
3 – Pick a Date
Choose a date that you plan to quit, and create a plan to be completely done smoking by that date. Then, get pumped up about your quit day. Tell your friends and family members. Make yourself a quit day calendar. Do whatever you have to do to get excited for, and stay excited for your quit day.
4 – Cut Back not Cold Turkey
Studies show that more patients are successful if they cut back leading up to their quit date rather than choosing to quit "cold turkey." We recommend that part of the lead up to your build day be a gradual decrease in the amount or number of times each day you use smokeless tobacco products.
5 – Ask for Help
Don't go in alone. Get your friends and family behind you for support. Most people say that they struggle most with kicking their habit in social situations like parties or gatherings. It's especially hard when the other people in attendance don't already know they have quit or are quitting their smokeless tobacco use.
Find out More
Contact your friendly team at McCarl Dental Group if you are concerned about smokeless tobacco and its impact on your oral and overall health. We encourage you to kick the habit today!