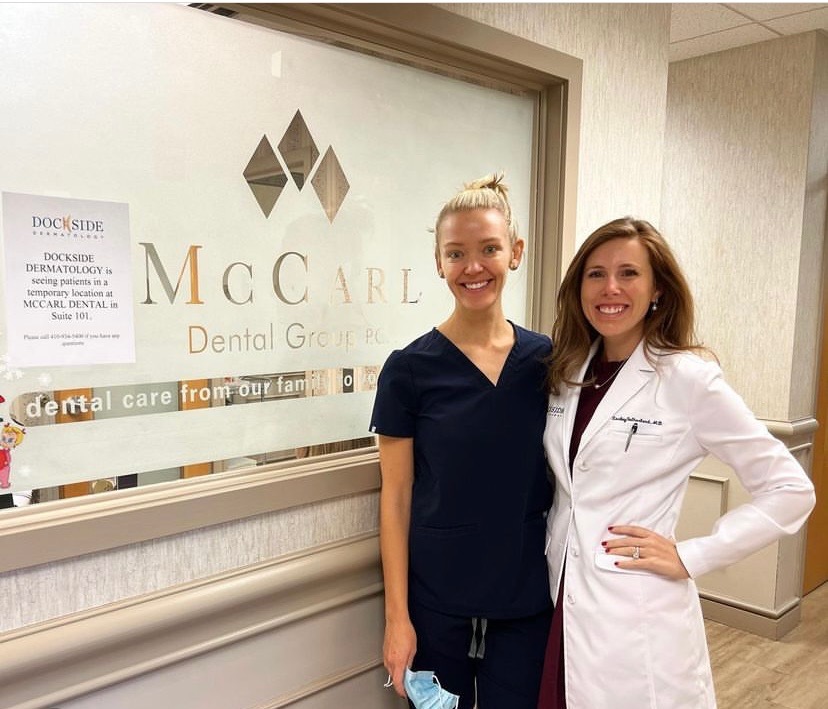 Patients who are in the market for optimal oral healthcare, as well as state-of-the-art skincare, can appreciate the temporary arrangement McCarl Dental Group at Shipley's Choice has made. We invite you to welcome Dr. Lesley Sutherland, a local dermatologist in the area, who will be sharing our Millersville dental office while she and fellow doctor, Dr. Stephanie Clements, wait for their new office to be completed.
Who Are Dr. Lesley Sutherland and Dr. Stephanie Clements?
Dr. Lesley Sutherland and Dr. Stephanie Clements are qualified dermatologists in the Millersville area and are local to greater Annapolis. After completing high school at Broadneck and Severn School, they finished their degrees at the University of Maryland School of Medicine. It was there that they also completed their dermatology residencies.
In addition, Dr. Clements serves as a board-certified Mohs Surgeon.
How Did This Arrangement Occur?
One of our dental hygienists, Ashley McCarl Harrison, grew up with Dr. Sutherland, attending first grade through high school together. Apart from the connection between the two, our team was impressed by the skills and services provided by Dr. Sutherland and Dr. Clements, so we arranged agreed to have Dr. Sutherland see her dermatology patients in our office until their practice is ready to open – Dockside Dermatology.
It will be located in Suite 201, which is located directly above our dental office in the Shipley's Choice Medical Park.
About the McCarl Dental Group at Shipley's Choice
Are you looking for a qualified dental group to take care of your oral healthcare needs? At McCarl Dental Group at Shipley's Choice, we have three expert dental professionals who have years of experience and are committed to learning more about the field through continuing education. Offering comprehensive services designed to improve smiles and ensure optimal oral health, patients can trust us to repair, rebuild, and restore smiles of all types and ages. If you're looking for a "dentist near me," call our dental office today.
About Dockside Dermatology
Dockside Dermatology is a full-service dermatology practice providing medical, surgical, and cosmetic dermatology all within one practice. Their practice is happily taking new patients. To schedule an appointment please call (410) 934-5400 or email hello@docksidederm.com.