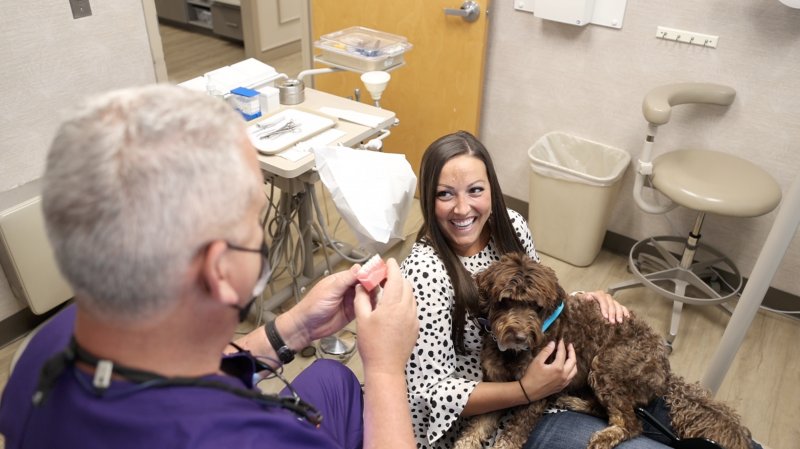 Different things put different people at ease.  For some, it is calm music, meditation, or a comforting hand to hold. For many, it is the sight and feel of a loving four-legged friend.
Recently at the Millersville office of The McCarl Dental Group, a young adult patient was scheduled for a few routine dental fillings. She shared with Dr. David McCarl that she was nervous about treatment and he asked, "do you like dogs"? Her answer was an enthusiastic yes!
Enter Brooklyn, our unofficial dental office therapy dog. Dr. David McCarl and his wife Pam breed Australian Labradoodles. They kept Brooklyn as their own pet. Brooklyn comes to work most days with Dr. Dave and quietly stays on her small bed in his study, tucked beneath his desk.
When requested, Brooklyn may quietly sit nearby in sight of the patient or even on their lap if they want. We have been told the unconditional love, as well as the slow, regular breathing and pulse of a warm four-legged friend can put even the most anxious dental patient at ease.
If you're visiting our Shipley's Choice dental office in Millersville Maryland on a day when Dr. Dave is there, you may enjoy meeting Brooklyn, a dog with love to spare.
If you would like to meet one of Dr. Dave's therapy dogs, let us know when scheduling your appointment.
About the McCarl Dental Group at Shipley's Choice
Are you looking for qualified dentists and dental hygienists to take care of your oral healthcare needs? At McCarl Dental Group at Shipley's Choice, our dental professionals have years of experience and are committed to providing the highest quality dental care through kindness, compassion, continuing education and the most current technology. Offering comprehensive services designed to improve smiles and ensure optimal oral health, patients prepare for a truly unique experience, complete with a therapy dog should dental anxiety be a concern. Call our dental office today to learn what you can expect during your next visit.