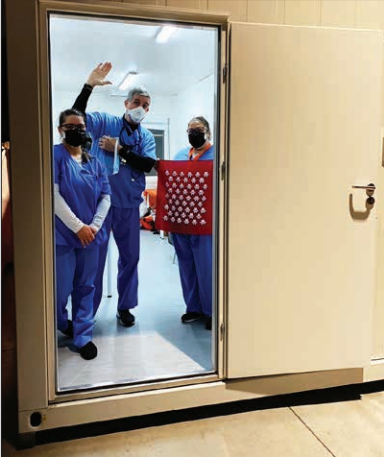 If you're like most people, the Russian invasion of Ukraine has stirred personal emotion. With every news report, you begin to wonder what you can do to assist in the effort to provide comfort and reassurance to the Ukrainian people. Dr. Jay McCarl and his team felt the same way, which is why from April 23-20, he and three team members traveled to Warsaw, Poland, to provide voluntary dental care to refugees. Read more of their story below.
The Urge to Help
Dr. McCarl has traveled to countries such as the Dominican Republic and Haiti on missions to help underserved communities; however, these trips allowed for a 4-6-month lead time. The sudden decision to travel to Warsaw came with two-weeks notice. Learning of the distress and uncertainty the Ukrainian people faced, he wanted to find out how he could help. As a result, he discovered International Medical Relief, a non-profit that was lending aid to the crisis in Ukraine.
The four-person team boarded a plane to Poland and made their base home within the Warsaw convention center where two busloads of refugees arrived each day.
Treating Smiles In a Shipping Container
Thanks to tradespersons in Warsaw, a dental clinic was housed inside an upgraded 7'x20' shipping container. Although unconventional, Josie and Carla set up a very simple and functional dental clinic. Lisa H. prescreened the patients and controlled the flow of people. The team made the best of it. Equipped with local anesthesia, antibiotics, desk chairs, and manual dental tools, the team saw 20 patients each day.
The majority of cases were abscessed tooth extractions, which they made sure to supply individuals with detailed post-operative instructions in Ukrainian.
Because of the boredom and uncertainty many women with children experienced, a psychologist from Warsaw placed printed coloring posters on the walls within the shipping container to keep young kids busy while waiting. But it wasn't just the attempt to spark some enjoyment within the children that patients and staff appreciated, it was the willingness of a Ukrainian refugee and volunteer, "Alaina," who assisted in creating a positive, pleasant, and comfortable experience for patients.
Speaking multiple languages, she spoke to children on their level, even kneeling to provide reassurance and a sense of calm. In addition, she provided clear explanations to adults, ensuring dental team members that the individual provided consent for a particular procedure.
Although apart from her fiancé, mother, father, and grandmother, she remained cheerful throughout their time in Warsaw, offering assistance in any way that would benefit Dr. McCarl and his team.
While the crisis in Ukraine is far from over, and refugees like Alaina still have a long way to go before learning their place of settlement, Dr. McCarl and the team at McCarl Dental Group are pleased to have played a part in providing aid to the people of Ukraine. In just one week, he witnessed the resilience and courage of the Ukrainian people and hopes others will reach out to provide help to those ravaged by this war.
About McCarl Dental Group at Shipley's Choice
Are you looking for a qualified dental group to take care of your oral healthcare needs? At McCarl Dental Group at Shipley's Choice, we have three expert dental professionals who are committed to preventive care and are ready should a serious injury or dental emergency arise. If you are suffering from a toothache but no longer in any pain, go ahead and call our dental office today. Let us take a look to ensure the health and future of your smile.