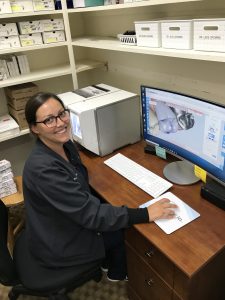 Same-day dental crowns and other restorations are transforming the dentistry process for many people. They make emergency dentistry faster and more efficient, they deliver quality results, and they save you time. These innovative treatment options offer numerous benefits to our patients beyond convenience. Read this blog to learn five interesting facts about same-day dental crowns from our Millersville, MD dentists.
1 – They're Made from High-Quality Porcelain
In the early days of same-day dental crowns, the in-office milling systems used lower quality porcelain and other materials that might not last as long or look as good as a traditional dental crown crafted in the lab. Today's same-day dental crown systems use high-quality porcelain, delivering natural looking, long lasting results you'll be proud to share.
2 – They're High-Tech
Traditional dental crowns require us to use goopy bite impressions that are sent off to a dental lab where a technician poured stone models of these physical impressions to craft a dental crown. This low-tech process leaves room for possible error, and may mean your dental crown doesn't fit as well or look as natural once it arrives back at our dental office. Same-day dental crowns utilize state-of-the-art digital scans and smile design system. Instead of biting down on putty to capture impressions, a handheld wand is used to scan your prepared tooth, creating a precise, digital impression. We can then use this impression to exactly design a dental crown that will be milled right here in our office while you wait.
3 – Their Design is Ultra-Precise
One of the best things about the advanced digital impression technology used to design same-day dental crowns is how precisely our designs can be fitted to your tooth. This means we don't need to remove as much healthy tooth enamel in the preparation process, and there's little to no adjustment needed to get the fit of your dental restoration just right.
4 – They're a More Comfortable & Convenient Dental Restoration Option
The comfort and convenience of this treatment option are possible the most obvious reasons why our patients love same-day dental restorations. Because we don't need to place and remove temporary dental crowns and you don't have to wait weeks for a final restoration, same-day dental crowns offer a much more comfortable process. Plus, you only need to visit our dental office once for your treatment, so this solution is easier to fit into your busy schedule.
5 – They Last as Long & Cost the Same as Traditional Dental Crowns
As long as you maintain thorough at-home oral hygiene and visit our dentist twice a year for dental checkups and teeth cleanings, your same-day dental crown should last just as long as a traditional dental crown. Even better news, the price tag is the same.
Meet the McCarl Dental Group Team
At the McCarl Dental Group at Shipley's Choice in Millersville, MD, we strive to stay at the forefront of dentistry technology. Incorporating same-day dental restorations into our dental office is one way that we've been able to do just that. While same-day dental crowns aren't ideal in every situation, the continually advancing one-visit dentistry technology means this option is available to more patients than ever. Reach out to our Millersville dentist and team to find out more today. We're happy to answer your questions about same-day dental crowns and other available dentistry solutions.