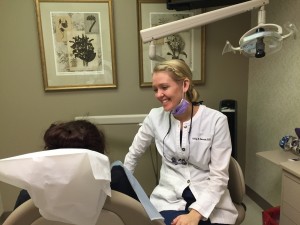 Are you familiar with that holiday classic, "All I Want for Christmas is My Two Front Teeth?" The song is about a child, missing his front teeth, who just wants his smile back for Christmas. While most of us are lucky enough to have our two front teeth, many of us can still relate to this child's reticence to share his smile. Whether you're embarrassed by chips, cracks, stains, or gaps in your smile, if you find yourself singing "All I want for Christmas is to make my two front teeth pretty," your cosmetic dentist in Millersville, MD has you covered. Keep reading to learn more about cosmetic dentistry options to help you reclaim your smile confidence again.
What are My Options?
In the past, cosmetic dentistry services were thought of as something for the very wealthy or famous. Today, many cosmetic dental solutions are fast, affordable, and comfortable for just about any patient. If you're interested in recreating a gorgeous smile after dental damage or you've always dreamed of enhancing your look, take some time to consider the many cosmetic dentistry solutions available:
Teeth whitening – fast, painless, and impactful, teeth whitening can brighten your smile and boost your confidence in a short amount of time.
Cosmetic dental bonding – using composite resin filling material (like what we use to repair cavities), we can conceal or correct small areas of discoloration or dental damage.
Dental crowns – for more advanced tooth damage, decay, or discoloration, a dental crown can replace lost tooth structure, protect your remaining hard tissue, and recreate a flawless look.
Porcelain veneers – these cosmetic solutions fit over the front surfaces of teeth, and most dentists offer both traditional veneers and thin veneers to address specific cosmetic concerns.
Invisalign – if you've always wanted to straighten your smile but metal brackets and wires scared you away, Invisalign clear braces may be just what you need. This alignment tray orthodontic system is effective for a range of orthodontic needs, and the subtle appearance means no one needs to know you have braces.
What Does the Dentist Recommend?
When it comes to cosmetic dentistry, there are numerous options that will work for patients. It all depends on their individual needs, budget, and timeline. During a cosmetic dentistry consultation, you and your cosmetic dentist can discuss your options and create a customized treatment plan that makes sense for you.
That being said, thin veneers are one cosmetic dentistry option that dentists love to recommend, if they work for the patient's needs. Thin veneers, also called minimal prep or no prep veneers, are like traditional porcelain veneers in that they affix to the front surfaces of teeth to cover up and correct imperfections in the smile. Unlike traditional veneers, the minimal and no "prep" part of thin veneers means they don't usually require the dentist to remove healthy, natural tooth structure prior to placement. In the video attached to this post, Dr. Clayton McCarl discusses some of the many benefits of thin veneers, which include:
Conservative – because natural tooth structure doesn't often need to be removed for this treatment, we can protect the healthy parts of your tooth while enhancing the appearance of your smile.
Long lasting – traditional veneers are bonded onto the inner, dentin, layer of the tooth, but thin veneers bond directly to the enamel. This bond is much stronger, meaning the thin veneers will often last significantly longer than their traditional counterparts.
Comfort – this quick, comfortable application means most people receive thin veneers without any numbing or sedation (not even Novocain).
Schedule a Cosmetic Dentistry Consultation at the McCarl Dental Group
When you're ready to learn more about how to create a healthy, beautiful smile, the McCarl Dental Group team in Millersville, MD would love to hear from you. Reach out to us today, and one of our team members will be happy to schedule a cosmetic dentistry consultation.